Why measure memory footprint?
This platform is designed for a light-weight edge computing deployment, capable of running on devices with few resources (for example, 256MB RAM)
It is important to know when deploying many pods that it showcases as little memory footprint as possible
KPI's measured
%CPU
%Memory
Resident Set Size (RSS)
How to test
After deployment and provisioning of KubeEdge cloud and edge components in 2 VM's (supported and tested over Ubuntu 16.04) respectively, start deploying pods from 0 to 100 in steps of 5. Keep capturing above KPI's using standard linux ps commands, after each step.
Test setup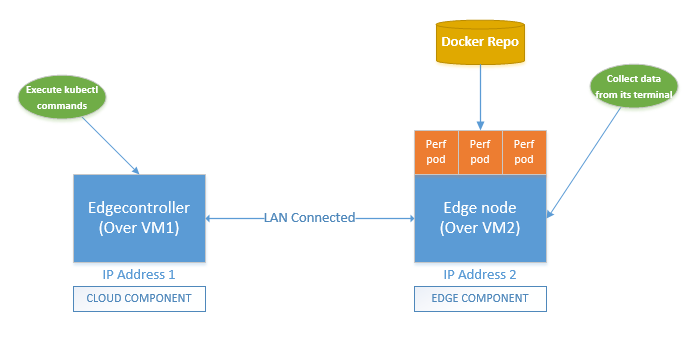 Fig 1: KubeEdge Test Setup
Creating a setup
Requirements
Host machine's or VM's resource requirements can mirror the edge device of your choice
Resources used for above setup are 4 CPU, 8GB RAM and 200 GB Disk space. OS is Ubuntu 16.04.
Docker image used to deploy the pods in edge, needs to be created. The steps are:

Go to github.com/kubeedge/kubeedge/edge/hack/memfootprint-test/
Using the Dockerfile available here and create docker image (perftestimg:v1).
Execute the docker command sudo docker build --tag "perftestimg:v1" ., to get the image.
Installation
For KubeEdge Cloud and Edge:

Please follow steps mentioned in KubeEdge README.md

For docker image:

Deploy docker registry to either edge on any VM or host which is reachable to edge. Follow the steps mentioned here: https://docs.docker.com/registry/deploying/

Create perftestimg:v1 docker image on the above mentioned host

Then push this image to docker registry using docker tag and docker push commands (Refer: Same docker registry url mentioned above) [Use this image's metadata in pod deployment yaml]
Steps
Check edge node is connected to cloud. In cloud console/terminal, execute the below command

root@ubuntu:~/edge/pod_yamls# kubectl get nodes
NAME                                   STATUS     ROLES    AGE     VERSION
192.168.20.31                          Unknown    <none>   11s
ubuntu                                 NotReady   master   5m22s   v1.14.0


On cloud, modify deployment yaml (github.com/kubeedge/kubeedge/edge/hack/memfootprint-test/perftestimg.yaml), set the image name and set spec.replica as 5

Execute sudo kubectl create -f ./perftestimg.yaml to deploy the first of 5 pods in edge node

Execute sudo kubectl get pods | grep Running | wc to check if all the pods come to Running state. Once all pods come to running state, go to edge VM

On Edge console, execute ps -aux | grep edgecore. The output shall be something like:

USER        PID %CPU %MEM    VSZ   RSS TTY      STAT START   TIME COMMAND
root     102452  1.0  0.5 871704 42784 pts/0    Sl+  17:56   0:00 ./edgecore
root     102779  0.0  0.0  14224   936 pts/2    S+   17:56   0:00 grep --color=auto edge


Collect %CPU, %MEM and RSS from respective columns and record

Repeat step 2 and this time increase the replica by 5

This time execute sudo kubectl apply -f <PATH>/perftestimg.yaml

Repeat steps from 4 to 6.

Now repeat steps from 7 to 9, till the replica count reaches 100